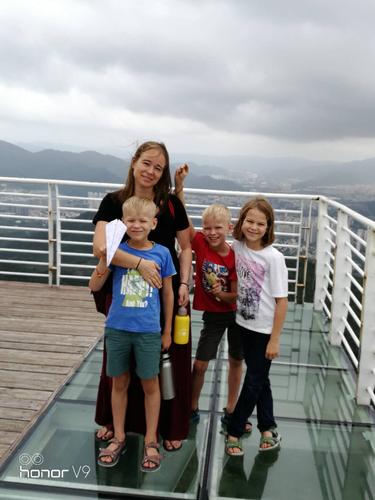 April and her children, Piper, Toby and Teddy, have lived in China since 2011, and are currently in Hainan, where they have worked in what small ways they could to help the animals that have come their way. They care deeply about the well-being of animals, so much so that since the ages of 5 and 6, the children have chosen not to eat meat, because of the suffering it causes to other living things. Last spring they celebrated the twenty-fifth kitten to have passed through their home on their way to loving families (four have stayed) and this past fall the eighth dog found her forever home. In Sanya they were lucky enough to participate in the rescue of nine young sea turtles released suddenly from captivity at Lingshui, and had the memorable (and smelly) experience ofde-inking squid to feed to the young turtles staying in tubs on their balcony until the rescue centers could receive them. The experience inspired Piper to create a sea turtle coloring book to raise awareness about sea turtle conservation and to raise money for sea turtle rescue. Selling the books and bracelets she made, she was able to raise 1,000 RMB for Sea Turtles 911.
Their most recent work was at a farm with severely neglected and undernourished horses and dogs, where they learned from a Ukrainian named Alex, who discovered the place and gave as much of his personal time as he could to treating their sicknesses, to shovel manure in stables, wash and exercise horses and apply medicine for their skin infections. They were able to provide dog food and watch the dogs transform from skin and bone to healthy animals, albeit still sad because they were still tied up in small spaces with no human interaction or exercise apart from what they and some other foreigners were able to provide when they visited. It was a difficult situation that was finally helped by 51Give, who were able to get the word to the Chinese Equestrian Association, who sent doctors to the farm at their own expense. The doctors came and spent several days examining and treating every animal, horse and dog, and educating the owner of the animals on their proper care.
The family's hope for the future is to find a way to work effectively in animal rescue in Haikou, and to continue to work towards a solution for the problem of single-use plastic on the beaches of Hainan.